(Burnside KY 9-15-2019)- Lake Cumberland Speedway blasted back into action Saturday, September 14th with round #5 of the Lake Cumberland AllStars Racing Series for the Finn Watson Memorial.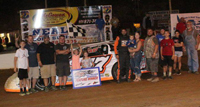 Michael Chilton(Salvisa, KY) would pass Jason Jameson on lap 18 and go on to win the 35-lap A-Main Finn Watson Memorial, taking home the $4,000 winner's purse. Chilton, piloting the Carter Industrial Painting- MKC Transport- Parkview Home Center American Race Tire- Sunoco Race Fuel- Shaeffer's Oil- Pro Powered Rocket XR1, has won 3 out of 5 Lake Cumberland AllStars Series races in 2019.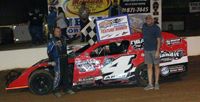 In the Lake Cumberland AllStars Open Wheel Modifieds Racing Series, Ricky Arms(Glasgow, KY) would lead green-to-checkers in the Roark & Sons Transport Open Wheel Modified A-Main, picking up the win and $1,200.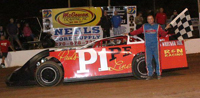 JWAT, Jeff Watson(Campbellsville, KY) picked up an emotional win in the Crate Late Model Division. Watson, son of legendary Late Model racer Finn Watson, broke out a special throwback paint scheme for his Dad's memorial race, piloting the Paul's Pipe Lines P1 to victory in the 20-lap Crate Late Model A-Main.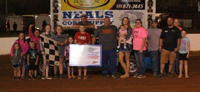 Shane Irvin(Liberty, KY) took the checkers in the Raceway Towing Mini Stock A-Main.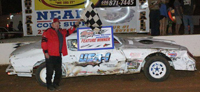 Keith Decker(Science Hill, KY) would take the win in the J&T Tree Service GrassRoots Hobby Stocks. For full results, schedules and other information, visit lcspeedway.net.
BURNSIDE, KY(9-4-2019) Afetr a week off for the World 100, The Lake Cumberland AllStars Racing Series powers back up Saturday, September 14th.  Round number 5 of the Lake Cumberland AllStar Super Late Models will battle it out in the Finn Watson Memorial $4,000/win! Lake Cumberland AllStar Open Wheel Modifieds will tackle the 3/8 mile bullring for $1,200/win. Raceway Towing Mini Stocks and J&T Tree Service GrassRoots Hobby Stocks will also be on schedule. Gates will open at 2pm with hotlaps getting started at 7pm. LIKE us on Facebook-Lake Cumberland Speedway Dirt Racing. Follow us on twitter- lc_speedway and on Instagram- LCSPEEDWAY. Lake Cumberland Speedway 360 Racetrack Rd. Burnside, KY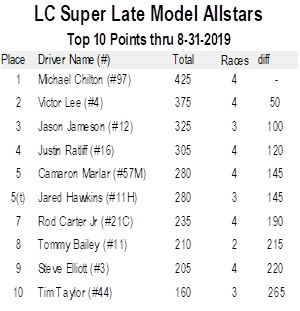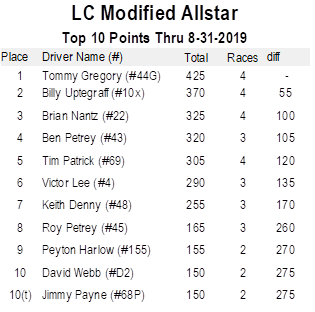 After a 2 week hiatus, Lake Cumberland Speedway roars back to life Saturday, August 24th with the largest event in the track's history. Round number 4 of the Lake Cumberland AllStars will pay $10,022 to the winner of the Super Late Model Harold Hardgrove Memorial! Super Late Models will race 50 laps for the record purse at the track affectionately know as the Hardgrove House of Hardcore Mayhem! Also on the schedule will be Crate Late Models, Open Wheel Modifieds, KDRA Super Stocks and Mini Stocks each racing for $1,022/win, along with GrassRoots Hobby Stocks battling for $522 winner's purse. Gates open 1pm with hot laps 6:30pm. For a full schedule of events go to LCSPEEDWAY.NET or facebook.com/LCSpeedwayDirt. Lake Cumberland Speedway 360 Racetrack Rd Burnside, KY
Saturday, July 6th, FIRECRACKER 30 presentd by J&T Tree Service
Super Late Models $,2000/win - Open Wheel Modifieds $800/win - Super Stocks $500/win
Front-Wheel Drive 4 Cylinders $250/win - Rear-Wheel Drive 4 Cylinders $300/win
Hobby Stocks $250/win
BICYCLE and POWERWHEELS Races for kids at intermission
$15 Grandstand Admission 10-under free
SATURDAY, JUNE 29th FAN APPRECIATION NIGHT & MEET THE DRIVERS
Only $10 grandstand admission 10-under free - $35 Pits

SUPER LATE MODELS - OPEN WHEELS - SUPER STOCKS - HOBBY STOCKS

PRO/CRATE LATE MODELS $750/WIN
2)$350 3)$300 4)$250 5)$200 6)$150 7)$125 8)$115 9)$100 on down

MINI STOCKS $400/WIN
PLUS Front Wheel Drive Bonus
1st highest finishing FWD $100
2nd highest finishing FWD $50
3rd highest finishing FWD $25

Gates open 2pm Racing 7:30pm

Like us on Facebook-facebook.com/LCSpeedwayDirt - Follow us on Twitter -@lc_speedway - Instagram- LCSpeedway - Join us on REMIND to have updates sent directly thru text message- TEXT @lcspeed to 81010.
Our First Lake Cumberland All Stars Series Event Scheduled for April 6th will be now be moved to July 13th!Our first series event will now be May 18th the (Johnny Wheeler Memorial $4031 to win!)

Season Opener April 6th will now host.
$2000 to win Super Late Models
$800 to win mods
$500 to win Superstocks
$300 to win 4 Cylinders
$250 to win Hobbystock

Our Yearly Championship $20,000 Points Fund will start for all classes on our Season Opener April 6th!!

Starting the season 4 Cylinders will be running together as Front wheel and rear wheel drives until car counts are up !Bonus includes $50 to highest finishing FWD and $25 for 2nd highest finishing FWD!


Total 2019 Championship Points Fund
$38,400

Lake Cumberland Championship All Star Series (7 Races)Points Fund
$18,400

Weekly 2019 Points Championship Fund!
$20,000

(Super LMs and Mods Only)All other classes will only be eligible for the $20,000 yearly fund!

May 18th- Johnny Wheeler Memorial
$4,031 Super LMs/ Mods $1,200

June 15th- $3,000 Super LMs/Mods $1,200
July 13th- $3,000 Super LMs/Mods $1,222
August 24th- Harold Hardgrove Memorial
$10,022 Super LMs/ Mods $1,500

Sept 14th- Finn Watson Memorial
$4,000 Super LMs/ Mods $1,200

October 11th- $2,500 Super LMs/ $1,000 Mods

October 12th- $5,000 Super LMs/ $1,500 Mods
Support Class Payout $Tba

Super Late Models LC Allstars (7races)
1)$5,000
2)$2,500
3)$2,000
4)$1,500
5)$1,000

Open Wheel Modifieds LC Allstars (7races)
1)$3,000
2)$1,500
3)$1,000
4)$800
5)$500

Weekly 2019 Championship Points Fund
$20,000 up for grabs

Super Late Models
1)$3,000 2)$1,500 3)$1,000 4)$800 5)$500
6-10th Participation Awards!
Total- $6,800

Open Wheel Modifieds
1)$1,500 2)$800 3)$600 4)$500 5th)$400
6-10 Participation Awards
Total- $3,800

Superstocks
1)$1,000 2)$600 3)$400 4)$300 5)$200
6-10 Participation Awards
Total- $2,500

4 Cylinders and Hobbystocks
1)$800 2)$600 3)$400 4)$300 5th)$200
6-10 Participation Awards
Total- $2,300 *3 Classes= $6,900

There will be Entry Fees announced at a later date for Lake Cumberland Championship Allstar Series Events (7races) only!!

Ultimately this can only help build the success of Lake Cumberland Speedway...Not only will this help give the weekly racers ambition to strive to get the victory and race every weekend..It will also allow the low budget late model or modified guys to race for a large points fund with all entry fees going to help establish this fund for only 7 races a year!Gonna be exciting to see how many racers are going to make the trip if not weekly for sure at all the Lake Cumberland Championship All Star Series Events!

We want to support the racers and teams that support us! #WeBuildChampions #PleaseShare